Michigan National Guard Soldiers learn Danish marksmanship skills
By MI National Guard | Partnerships and Programs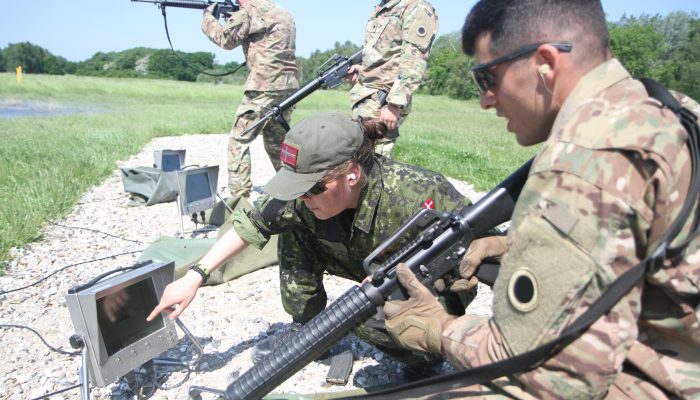 JAEGERPRIS, Denmark --
Select infantry Soldiers from the Saginaw-based, 1st Battalion, 125th Infantry Regiment, Michigan Army National Guard, traveled to Denmark to participate in individual rifle marksmanship training conducted, May 30-31, 2016, under the attentive eyes of Danish marksmanship and safety instructors. The 26 Michigan infantry Soldiers were introduced to specialized Danish training methods and were also given an opportunity to utilize the methods for improving marksmanship accuracy on Danish military, live-fire ranges, secured near Jaegerpris, Denmark.
"There is a big difference in precision marksmanship and quick reaction shooting," said Sgt. Pernille Ugleberg of the Danish Home Guard. "Taking the time to understand your posture and control your breathing ensures that targets are hit with one shot which conserves ammo."
During one portion of the training, 1-125 Soldiers were introduced to methods used by Danish forces to engage targets up to five hundred meters away – and maintain consistent accuracy – a skill that is particularly challenging at extended distances. The Michigan National Guard Soldiers fired about 10,000 rifle rounds over the two-day block of instruction.
"I enjoy training and instructing the Michigan Soldiers on different marksmanship techniques," said Cpl. Soffie Fife of the Danish Home Guard. "This has been very exciting training so far and everyone has been doing very well. I feel this type of training helps Soldier firing accuracy, wherever they are sent and with any firearm they are using."
After the marksmanship training session, the 1-125 Soldiers were given an opportunity to participate in the Danish Field Shooter's Badge qualification and the standard Danish Marksmanship Badge qualification. Qualification results will be shared as soon as they are available.