Who was Phelps Collins?
By MI National Guard | MI National Guard News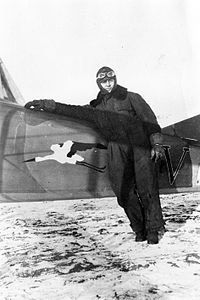 ALPENA, Mich. --
The airfield at the Alpena Combat Readiness Training Center, as well as the conference center building at the base, are named for a prominent son of Alpena who was an early American combat pilot.
William Collins, Phelps' father, was the president of the Alpena Manufacturing Company, which produced an automobile called the Alpena Flyer, from 1910-1914. The son opened a construction supply company in Alpena shortly before World War I kicked off.
Phelps Collins was among dozens of individual young Americans who sought to join the air service prior to the official U.S. entry into the war. World War I was being fought in Europe for about three years before the U.S. entered the war. Collins and many other young men, mostly from well-to-do American families, eventually found their way to Europe to fly with the French military in a force that came to be known as the Lafayette Escadrille — a French unit filled with Americans who learned how to fly at the front and quickly began to engage in aerial combat over the trenches of the front lines.
Collins was a natural pilot. He drew praise from his fellow pilots, one of whom later claimed that when Collins would take off for another combat patrol, all would gather to watch him take off as he was such a natural.
Collins scored two aerial victories – shooting down an enemy aircraft – while flying with the Lafayette Escadrille – and had three more "probable" victories, none of which could be confirmed using the victory rules of the day. Had all three of those probable been confirmed, Collins would have earned status as an "ace" – a term that was just beginning to capture the public imagination.
Some seven months after Collins began flying as a member of the Escadrille, the U.S. Army began to arrive in France in significant numbers. As it did so, U.S. flying squadrons were created and Collins and others were transferred to the U.S. units.
On March 12, 1918, the pilots of the 103rd Aero Squadron received an alert call that a flight of German bombers were headed to Paris. A flight of four 103rd pilots, including Collins, were sent out in SPAD VIII aircraft to intercept the enemy force. The 103rd pilots would search in vain for the opposing force, never finding the reported raid.
As the four American aircraft searched for the phantom German raid, Collins' aircraft peeled off on its own. Aircraft of the time were not equipped with radio, so Collins' intentions were unknown. Did he think he saw an enemy aircraft? Was there a maintenance issue?
Collins then flew in a circle for perhaps 30 minutes and then his aircraft nosedived into the ground. According to the official report, it is believed that Collins – exhausted from many months of two or more combat sorties per day – flew too high and passed out from a lack of oxygen.
With the crash, Collins became the first U.S. military pilot to die while flying a combat mission with an American unit. The news of Collins' death was big news back home Alpena, and across the nation as America mourned an early aviation hero.
In 1931, when a new public airport was opened in Alpena County, the field was named Phelps Collins Field. The field began to be used for military training in the 1930s and was put to increasing use during World War II. The field, managed by the Michigan Air National Guard, has served as a training center since World War II.