Training exercise Arctic Eagle to take place at Camp Grayling, Alpena, Rogers City, Cheboygan and Mackinaw City
By MI National Guard | MI National Guard News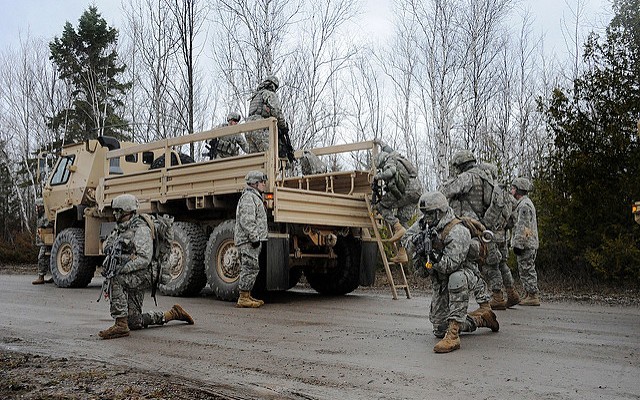 LANSING, Mich. --
Arctic Eagle, a joint, military training exercise, will take place at Camp Grayling,
Grayling Munson Hospital, Alpena Air Guard Base, Rogers City port, Cheboygan port and Mackinaw City from April 1-14. Approximately 1,000 Soldiers, Airmen, Marines and Coast Guard, as well as our Danish Army counterparts will participate in a variety of scenarios in order to ensure the military's ability to: control unit training at multiple locations, collaborate with Department of Defense, civilian authorities and foreign nation partners, exercise joint communications, and respond to potential national threats. Helicopters and other aircraft will be used in parts of the exercise.
Arctic Eagle supports the President's, Department of Defense, Coast Guard and Denmark's National Strategies for the Arctic and is being conducted in the current constrained fiscal environment without the expenditure of additional dollars.
At the Rogers City and Cheboygan ports, Soldiers from Indiana and Massachusetts will practice loading vehicles and equipment onto barges for sea movement during the April 4-5 timeframe.
In Mackinaw City, the exercise takes place on April 5 and primarily focuses on Coast Guard operations.
In Grayling at the Munson Hospital, the exercise will consist of Soldiers from the Indiana Army National Guard, U.S. Marine Corps, and local authorities. The casualty treatment/ decontamination operations will take place on April 5-6. At the Grayling Army Airfield, units will conduct quick reaction drills responding to local disaster needs.
At Camp Grayling, on April 6-12, the exercise will take place at the newly constructed Combined Arms Collective Training Facility. Soldiers from the Danish Home Guard as well as Marines, will secure the infrastructure on the CACTF as if they were securing a real community from threats.
"We do our very best to minimize inconvenience to our surrounding communities," said exercise director Col. Thomas Perison. "We work closely with the local communities when we know training
exercises are going to take place; we value their partnerships and their support as we train to defend this great nation and our allies. This exercise supports Northern Command's and Alaska's Arctic security strategies. It will help identify further ways to secure the Arctic from natural and man-made threats as well as how to respond to any security issues in that region."
Arctic Eagle 16 is a National Guard led, joint, interagency, intergovernmental, and multinational exercise based on the President of the United States, Department of Defense, Department of Homeland Security, state of Alaska, and international partners' Arctic strategies. It is conducted in live and constructive environments, focused on humanitarian assistance, consequence management and infrastructure protection.