Michigan National Guard Soldier concludes Flint water support mission
By MI National Guard | MI National Guard News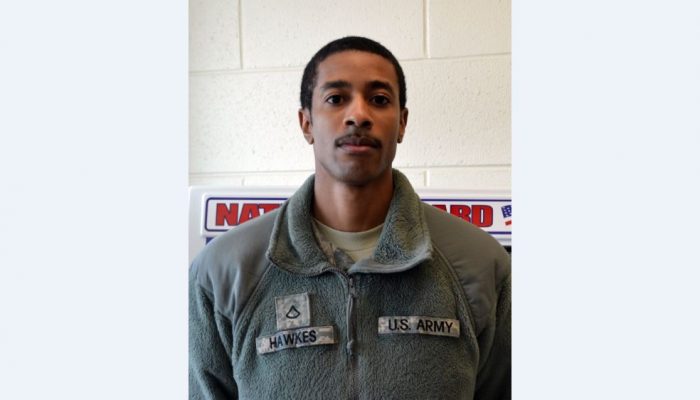 LANSING, Mich. --
Pfc. Lamar Hawkes, a member of the Detroit-based, 1072nd Maintenance Company, received a Michigan Active State Service Ribbon with Bronze Oak Leaf Cluster and sincere gratitude from Maj. Gen. Gregory Vadnais, director of the Michigan Department of Military and Veteran Affairs and adjutant general of the Michigan National Guard, for his service during the Flint water crisis. Hawkes served in Flint from February through April, distributing bottled water, sink filters, lead testing kits and recycling bins (for plastic bottles) to residents.
"I understand the level of frustration of the residents due to the Flint water crisis. However, it was still an honor and a privilege to serve a community in need. I would like to extend a heartfelt thank you to the residents and businesses who provided us with food during the long work days. I am eternally grateful for their acts of kindness and hospitality. I would also like to thank the fine people who supported us during our extended hotel stay," Hawkes said.
Hawkes was one of about 400 Michigan Army and Air National Guard members who stepped forward to serve in Flint. He was released from duty with a group of Soldiers and Airmen as the Michigan National Guard transitions water distribution and related responsibilities over to Flint residents hired through the Michigan Talent Investment Agency. All Soldiers and Airmen will be off state active service and out of Flint in that capacity by the end of this month.
Pursuant to the Michigan National Guard, Joint Forces Headquarters Regulation 600-8-22, the MASSR is awarded to any officer, warrant officer or enlisted Soldier who has served honorably for a minimum period of three days on active state service in support to civilian authorities during periods of disaster or emergency under proclamation of the governor of Michigan. A bronze oak leaf cluster represents nine days or more of active state service.