Belmont-based National Guard unit changes command
By MI National Guard | MI National Guard News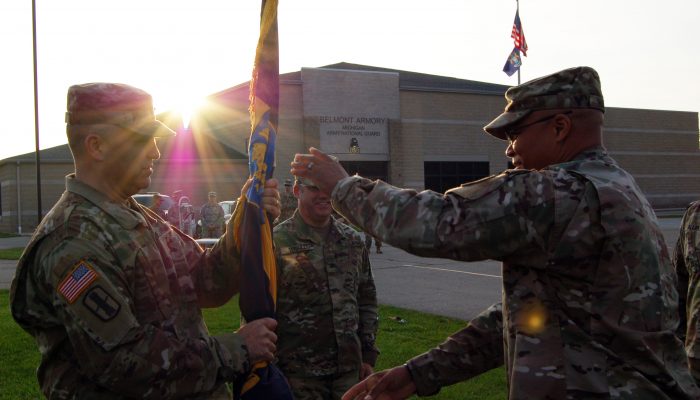 BELMONT, Mich. --
The Michigan Army National Guard, 63rd Troop Command, welcomed a new commander Saturday, Oct. 15, 2016.
Col. Shawn Harris accepted command of the brigade-sized element from Maj. Gen. Gregory Vadnais, adjutant general of the Michigan National Guard and director of the Michigan Department of Military and Veterans Affairs.
Relinquishing command after more than two years' service to the unit was Col. Jeffrey Terrill.
Harris most recently completed a tour as chief of staff for the final rotation of Operation Onward Liberty in Liberia, Africa. The approximately 15-month mission included mentoring and advising Liberia's senior military leadership. The mission holds unique relevance because the Michigan National Guard and Liberia were paired in 2010 under National Guard Bureau-administered State Partnership Program. Harris previously served as the Michigan National Guard's Director of Information Technology.
The 63rd Troop Command includes the Michigan National Guard's infantry and artillery battalions, formations familiar to Harris, whose military education includes both the Infantry Officer Basic Course and Field Artillery Captains Career Course.
Harris was also one of the first Michigan National Guard officers selected to attend the Army War College as a resident.
"I look forward to working with each and every one of you," said Harris, to the formation of Soldiers from the 63rd on Saturday.
Harris' familiarity with the command isn't limited to its mission, however. The unit's current command sergeant major, Command Sgt. Maj. Kevin Day, was one of Harris' first Soldiers in the early days of his career, shortly after commissioning as a second lieutenant.
"It's a very special treat to once again serve with Command Sgt. Maj. Day. The last time, I was a brand new second lieutenant and he was a specialist in my platoon," said Harris.
Outgoing commander Col. Jeffrey Terrill oversaw during his tenure the deployment of one of the Command's battalions, 1st Battalion, 182nd Field Artillery Regiment, to active duty in the United Arab Emirates and Jordan, a mission from which the battalion just recently returned.
The majority of Soldiers comprising the 63rd and its subordinate units will train one weekend each month and complete a two-week annual training period each year.