Camp Grayling environmental program recognized for quality
By MI National Guard | Accomplishments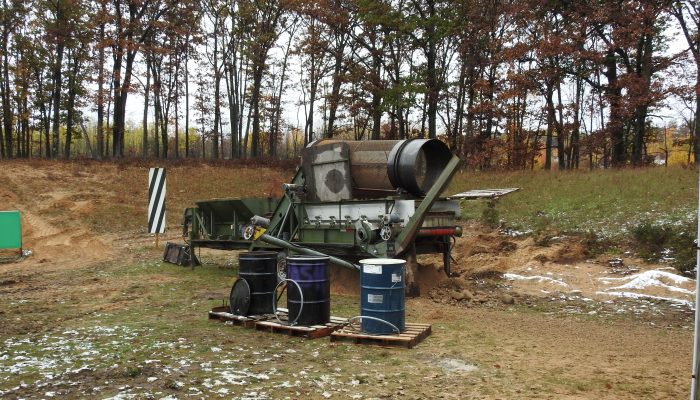 Soil near a Camp Grayling Joint Maneuver Training Center firing range in Grayling, MI, is cleared of contaminants.

LANSING, Mich. --
The Camp Grayling Joint Maneuver Training Center environmental program was recently awarded second place in the Sustainability (Non-Industrial Installation) category of the 2016 National Guard Bureau, Army National Guard Environmental Awards Program. The award packet submitted for consideration contained visual and written documentation of 2016 and on-going environmental efforts at Camp Grayling. The packet now advances to the Department of the Army competition representing the Army National Guard.
The award packet contained technical information about Camp Grayling's sustainability efforts toward net-zero waste, energy independence, flora and fauna conservation and habitat development, water conservation and protection, and the completion of formalized internal voluntary assessment schedules that meet, and in many cases, exceed, industry standards. The camp's environmental teams proudly partner with like-minded businesses, community groups, universities and other groups to proactively investigate potential problems and embrace innovative options for improving sustainability.
"We take protection of resources seriously here at Camp Grayling," said environmental manager John Hunt. "Long before sustainability issues were being talked about, we were regularly monitoring soil, air, and water quality, consciously seeking the most environmentally responsible ways to train troops."
"Sustainability efforts at Camp Grayling, and across Michigan National Guard installations and armories, significantly exceed quality standards set by the EPA and other conservation-related groups," said Brig. Gen. Michael Stone, the Michigan National Guard Assistant Adjutant General for Installations. "Our environmental teams work closely with partner groups to protect our state's natural resources and to model energy stewardship for future generations."
Michigan Army National Guard environmental efforts don't stop at Camp Grayling. Efforts at facilities across the state, including Fort Custer and the Michigan National Guard Headquarters in Lansing, have earned the agency top NGB awards in eight of the past ten years. In 1997 and 2009, the Michigan National Guard received the NGB Environmental Stewardship Award for 'Best Overall Army National Guard Environmental Program' – making Michigan the only state in the nation to receive the award twice. The Michigan Guard also scored wins at the Department of the Army level in 2005 and 2008, and at the Department of Defense level in 2008 and 2009.